The trials and tribulations outlining my quest for the very elusive Life magazine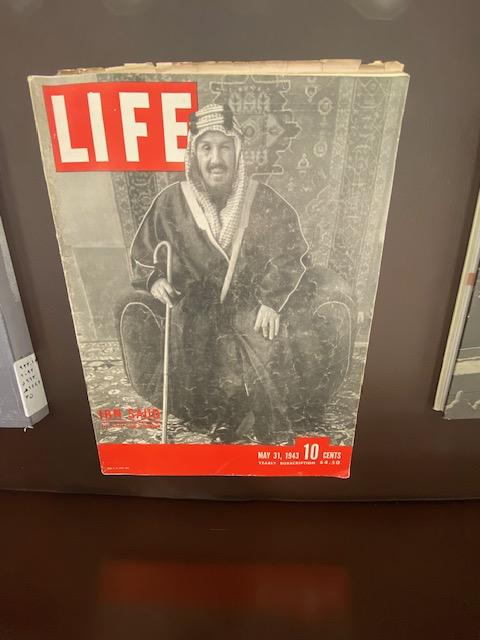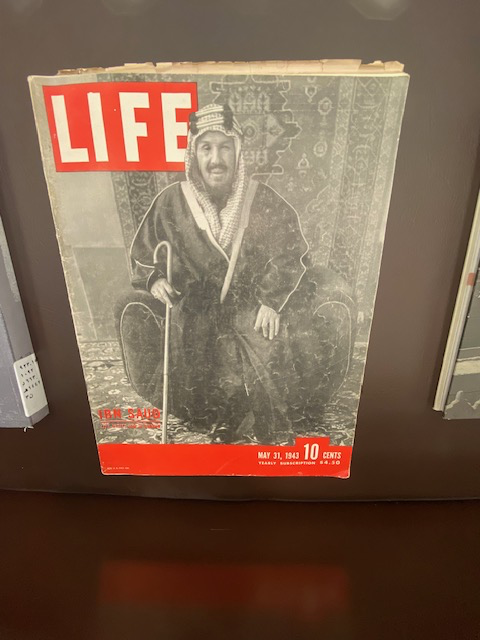 Now this is a true story – all of my stories are true stories, this one is not even exaggerated
Somehow, and I do not know how, I had this absolutely precious, treasured magazine which shall be pictured in my possession.. I went to Dubai (from the County of Marin where I lived at the time) in October of 2021 staying at the Marriott Marquess. (I had stayed there before in January of 2020). I was walking about, appropriately dressed because I had become a Muslim in the meantime, after my first visit to the hotel. (Which is a great hotel by the way).
I walked into one of the lounges and saw a man dressed in Arab clothes, the usual ones but with a coat of gauzy material (you will see in the photo). I walked up to him and this is the conversation as I remember it.
Me: Your Highness. I know from your attire that you must be Royalty
(A woman who was standing beside him responded, later I was to learn that she is/was Judge Shams of the United Nations Court) .
She: He is. He is a Sultan.
We chatted, She gave me her business card. I recall that we were to meet the next day but we did not and I have not been able to reach her – she does not respond to my messages, even to this day.
I did not understand, at that moment and in our conversation, that he was a Sultan from Saudi Arabia – did not know at the time what which particular Arab country. Later I discovered it was Saudi Arabia. I saw him (without the woman that was his translator) in the public areas of the hotel later that evening.
I explained that I had a treasured magazine that I wanted to show him. Reluctantly he came to my room (contrary to Muslim rules). I ran into my room, found the magazine and gave it to him.
He was able to convey to me that he was leaving the next morning.
Me: Please take it, read it and give it back to me before you leave.
Well he did not. I do not blame him. He probably did not understand.
I knew then, but I know now how important that magazine is and was and is. It was the first time King Saud had allowed photographers into his country. The photographs are amazing. The dirt road that was the main street of Riyadh, photographs of Mecca at the time – tents not the massive hotels that greeted me on my arrival on December 1, 2022. Not been to Riyadh yet but I do understand that it has changed a bit as well. Hahaha

There were photos of the outside of the harem in the palace, images of the male members of the family, one showing women walking in their Saudi clothes (same as they wear today).
But one of the most significant entries was a statement by King Saud about the proposal of an independent state of Israel. His thinking was SO incredibly profound, so wise. If his words would have been heeded at the time there would be no problems at this time. The mess, terror and brutality inflicted by Israel on Palestine has cased so much friction, discord, deaths and war since its inception was allowed. Countries throughout the world support the atrocities through their support of Israel. The United Nations does absolutely nothing, not even enforce its own mandates. Shame on them, I wonder why? Could it be because the United Nations is in New York??
Anyway I want my magazine back. If anyone recognizes him let me know. I will find a way people can contact me and will let you know through this blog. I will be in Riyadh on Friday for about a week, I think.
Photos of the Sultan and I and the magazine cover are attached. Please, I beg of you. This may help solve this terrible situation.
So many, even Gulf countries support Israel. The major Arab country that supports Israel is the UAE. I lived in Abu Dhabi for five months, escaping back to Canada on May 8, 2022. I was not held prisoner exactly because the Abu Dhabi Airport Premier Inn kept me safe. I was able to fly on Ethiad Air from Abu Dhabi to Toronto Pearson Airport. Now that was imprisonment. That airport is a horrible mess. This time I flew on Qatar Air through Montreal. I do learn from my mistakes. Hahaha
That is all I have a Medina museum to visit and I do have to get out of my pajamas. Hahaha
I will wear a dress under my abaya today and not pajamas. Do not know why. I could wear my pajamas.
I pray this will work out. Allah absolutely must have a hand in this. Too unlikely it is coincidental.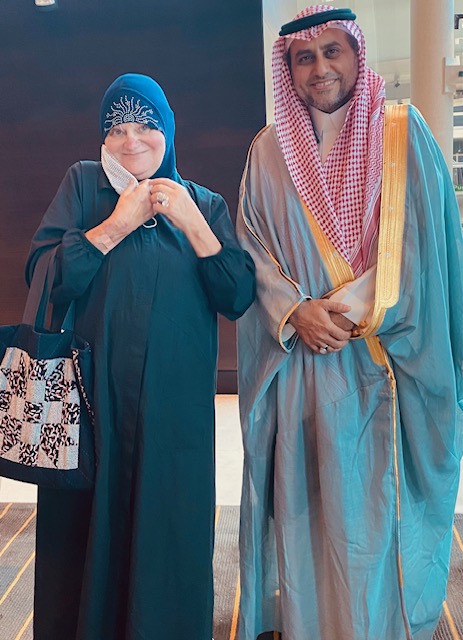 The reel found in the September 4, 2923 blog shows how happy I was when I left Jeddah. I had found not just one, but two copies of My Magazine at 'home' with the Saudi people. There was even the possibility that a third was there in Jeddah.
Besides that, the trip was not, at all, at its end!! A hardship had been encountered, which turned into a total blessing. Originally I made plans for the Saudi trip from Edmonton Very difficult and most disappointing – do not do it. I was insistent on staying in Medina but it was at the worst time imaginable, so crowded there as it was the conclusion of Hajj which meant that- all the pilgrims flocking to Median because they were, after all, in Saudi Arabia. I was able to secure reservations in Medina but at considerable cost. The only room in the inn (to borrow a Christian expression) was the Presidential Suite at the Hilton. So I did it – sprang for the incredibly expensive reservations. Then along came hardship. Got my dates confused – did not check in on July 15th – so lost my reservation (and was apparently charged for one night). In sheer desperation called AK in the middle of the night. He totally came to my rescue – called the Medina Hilton, got me my money back and arranged for a less expensive room. But I felt defeated, burned by the experience. He came up with a magnificent new plan. PHEW
We went to Jeddah from Riyadh (where I found the battered magazine), rented a SUV, collected his amazing mother in Mecca and sped down the road to Medina. His mother had been staying in the Medina Oberlio Hotel for twenty-five years and was eager for a trip back. We drove between Mecca and Medina – laughing all the way, encountering a bevy of baboons. A reel went on Instagram which got hordes of views – its details reported were reported in the July 17, 2023 blog. Go back and read the July 16, 17, and July 18, 2023 blog for more details.
The Oberlio Hotel is absolutely magnificent. It is THE place to stay and has been so for years and years and years. I was blessed, spoiled beyond belief, treated in a manner befitting a true Sheikha Fatimah. So naturally decided to stay there for about a week. AK, his esteemed colleague and his mother drove home, leaving me where any, and all Muslims want to be – Medina.
Events of those treasured days were revealed on the blog and on Instagram. The July 24, 2023 blog spoke of my tour of the Royal Suite, escorted by Mr. Ali, the esteemed manager, We spoke of his career, as well as the hospitality shown all the guests at the Oberlio Hotel.
One day during my stay, thought I saw Mr. Ali in the lobby
Me: Mr. Ali! Mr. Ali! Hello
He: I am not Mr. Ali.
Me: Oh my goodness, I am sorry! But it is so difficult to tell you apart as you dress alike.
He: Your apologies are accepted. Do come and speak with me.
SoI did. He was the second in command, the Resident Manager, also with a long history of service at the Hotel. We spoke often. He, a most gracious host, would provide Arab coffee and dates. We spoke of many things – including my relentless search for the May 31, 1943 Life magazine.
He: Do you have a photograph of the man you thought was the Sultan?
Me: Yes. I will show you. Here it is.
He: I have seen his face before. I know I have. Give me a few minutes.
I did, Searching on his computer, he found him. He was not a sultan but a lawyer (of all things). My savior found his name and several photographs and a reel of the man speaking. The photographs and the reel were taken, I believe in 2018 – so he has aged. But it is him, no doubt about it.
You shall see the photographs and the reel.. He had/has a position dealing somehow with the h African/Arab Economy. His offices are in Dammam, I do think.
What will I do now? What happens when a quest is over. The magazine(s) reside in safety within the borders of Saudi Arabia. The man has been found. Do admit I have a desire for revenge for the agony over the loss of something precious, the mental anguish it has caused me, the time spent in headless pursuit, I do know the location of his offices. Could travel there and confront him. Perhaps I should find him and thank him.
I look to Allah (SWT) for guidance. I am confident that guidance shall be provided. My job is to listen and to follow. The decision will be made upon my return to Saudi Arabia. It could be that it will be more compelling (and a better use of my time and energies) to comb the shelves of the King Library writing of the uplifting history of Saudi Arabia. After some time returning to Medina, staying at the Oberoi.
As I typed Oberoi the following Wikipedia jumped up:
"The Oberoi Group is a luxury hotel group with its head office in New Delhi, India.[2] Founded in 1934, the company owns and operates 32 luxury hotels and two river cruise ships in 7 countries, primarily under its Oberoi Hotels & Resorts and Trident brands.[3] The group also operates The Oberoi Centre for Learning and Development, which is regarded as one of Asia's top institutions for hospitality education."
This is written a day later, after more reflection and more prayer. I suddenly remember a joke. There it goes. A man of limited education (and perhaps intelligence) had been wronged. He was told of the following Christian admonitions
They: Vengeance is mine sayeth the Lord.
He: Okay. But only if I get to watch and it takes a REAL long time.
An Admonition is an act or action of admonishing; authoritative counsel or warning: Its synonyms are most harsh:remonstrance, reproach, admonishment, stricture, recrimination, tirade, diatribe, philippic, harangue, attack; scolding, chastisement, castigation, upbraiding, berating, reproval, censure, condemnation, telling-off, dressing-down, talking-to, tongue-lashing, bashing, blast, rap over the knuckles, slap on the wrist, flea in one's ear, earful, roasting, rollicking, caning, blowing-up, ticking off, carpeting. Not fun at all to be on the receiving end of any of that
I always loved that joke. I still do – but I am no longer, a Christian, nor an atheist. It is so freeing to leave it all to Allah (SWT). Perhaps I will change my mind when I return to Saudi Arabia. Perhaps I will be an instrument in Allah's Al-"Alim plans. So many of the 99 Names come into play. Mr. Ali gifted me with a small, beautifully illustrated book each page dedicated to one of the names. . Reflecting upon them has become a way in which I worship.