Nowadays an Arabic voice calls, summons me to prayer on a prayer rug of beautiful design which combines the Indigenous Canadian culture and the Islamic faith. It was purchased at the Edmonton Muslim Heritage Festival about two months ago. The call to prayer emanates from my iPad. My Muslim App, recently downloaded, tracks the unique Edmonton obligatory prayer schedule. It is a little confusing as the Edmonton El Rashid Mosque calendar and the iPad are not coordinated. For various reasons I have more confidence in the iPad. My experiences at the El Rashid Mosque were not positive and I do doubt that the iPad 'celebrated' Halloween.
In my never ending question for knowledge learned why the call of prayer is a voice, not a bell or a gong that signal the prayer times of other faiths. The Prophet Mohammed made the decision when residing in Medina. An interesting conversation with a Medina resident took place – the Prophet did not choose the man with the recommendation but instead chose a man with exceptional oratory skills. The man was instructed to go to the rooftop of a wealthy woman, who was, incidentally, the first woman to memorize the Quran. A fascinating story – in the end (hers) she was martyred.
The Prophet Mohammed's life is truly fascinating. A highly intellectual man said, on Instagram, that he became of the faith by and because of reading Martin Ling's book of the Prophet. What did I do? I called my favorite book store, Audrey's on Jasper Avenue and ordered one. It is out of print at this moment but the publisher is promising a reprint.
It does seem most technologically advanced (and rather strange) to be hearing a call to prayer from an iPad which also is the repository of three or four Qurans and about fifteen books describing various aspects of the Islamic faith. There is also the bombardment of information from Instagram Reels, Stories and Posts – various personages sharing their Muslim beliefs – some believable and well intentioned, others not. Increasingly, day by day, I am yearning for the good old days. I want to live when, and with, Mohammed, at the very beginning when He would settle disputes amongst the various adherents. Unfortunately I do not believe in time travel so this dream seems impossible to achieve. I could, however, travel to Medina on a jet plane and perhaps even see the roof top where the chosen man first uttered the first call to prayer. However, the Prophet, who some regard as the greatest man who ever lived will not be there.
The ancient faith and new technology have become unusual bed partners, to say the very least. I have chosen not to become part of a Muslim community, in many ways. I am on my most more comfortable in this determination as women are not required to attend Friday prayer in the mosque. They can but are not required to. It has been my experience that the Muslim community is geared, almost entirely, to the raising of observant children. That is laudable but I am not equipped with a family.
One could say that I am in a state of limbo – new to the Islamic faith and new to my old home town. This week attended a University of Alberta Alumni event sponsored by the School of Public Health. It was an absolute privilege to be there. The speaker, a director at the World Health Organization was not present in person but technology brought her to us. The event was attended by faculty, students and alumni. I am alumni. Indigenous people were also honored. An Elder of great wisdom spoke, we chatted at length before the program commenced. Attendees stomachs, as well as brains were fed. I had the absolutely delicious vegetarian plate, which was photographed, so you can drool over it. I did congratulate the food and beverage man on the excellence of my plate. The only, and I mean only problem with the event was that it went on too long and I desperately needed a break (if you know what I mean). I escaped to the loo and began conversations with other inhabitants, one conversation turned out be one of the most gratifying of my existence. An amazing woman met in the loo was on the faculty. The next day she sent the following email.
She: Thank you so much for taking the time to attend our lecture and being such a wonderfully engaged participant. You were just delightful. Like a ray of sunshine. Alexis I would love to have a visit with you to explore how you can engage with the University and the School of Public Health in a way that is meaningful to you. You clearly have a passion for equity and are a change maker. I look forward to hearing back. Have a wonderful afternoon.
I immediately responded:
Me: What an extreme honour that would be!! I would LOVE to help in any way I can!! I actually have some ideas. WOW!! I leave on Monday for about a month…..Shall I get in touch with you when I return cannot begin to tell you how deeply honored I am. We MUST spread the good word of your wonderful program to those that need it most.
She: Wow! I cannot wait to hear about it. Yes please connect when you are back. Have the time and adventure of your life.
Me: Great to get your response to my response. I will be speaking of my travels on the blog once I get there. It shall be the adventure of a lifetime and I have had SO many adventures. I am nervous but SO organized. Will write of your kindness on the blog.
So I am – what an honour to be able to assist in any way I can upon my return. It will give me something of meaning to come home to.
I did an Instagram video with the following caption.
Me: At the University of Alberta campus, my alma mater, for a fascinating lecture. Premier Smith does not seem to be in attendance. She knows nothing of what she hopes to destroy. The vegetarian plate looks delicious. I leave you to dine.
But then I did something absolutely bratty, I behaved like a brat.
Brat has several synonyms: spoilt child; rascal, wretch, imp, whippersnapper; minx, chit monster. I personally prefer to be called a whippersnapper, This is who it happened. I was sending an email to someone whose name began with a J – and every J person I have ever known jumped up. I am out of touch with some of them, some of them screwed with me (no other way to describe it). So I sent the thread to eleven people with the following message.
Me: What an interesting turn my life has made! All praise to Allah and my new found ability to contribute to the country of my birth and my Alma Mater. All praise to Allah. Alexis aka Fatimah
There was a post script but it would tell you too much too soon. It felt so good to send the email. My motto was, and is. Living Well is the Best Revenge. I am convinced that many of the people on my hastily summed list are not living happy and productive lives. I am so incredibly fortunate to be doing so. Their slights, their rebukes, sometimes occasionally their lies and misinformation were not sufficient to deter or distract me.
Not only do I feel incredibly blessed to be in Edmonton for all of these reasons but then I came across a New Yorker article made me feel even more blessed to be away from my California coastal community. An article, written by Kathryn Schulz announced: "When the big earthquake hits, she observes, the northwest edge of the United States may drop by as much as six feet, triggering destructive tsunamis and resulting in tens of thousands of lives lost. Schulz crafts her piece like a scientific detective story, seeking to discover whether it's even possible to prepare for such a catastrophic event. Her writing delves beneath the surface of her subject, making visceral the as yet unrealized future. In her expert hands, a tale about geology and earthquakes becomes a stark warning about the consequences of denying the reality of the natural world around us." Here is the link to the entire article: https://www.newyorker.com/magazine/2015/07/20/the-really-big-one?utm_source=onsite-share&utm_medium=email&utm_campaign=onsite-share&utm_brand=the-new-yorker
I formerly lived in northern California – owned property on the San Andreas fault. This Alberta is free of fault lines and there is absolutely NO way we would ever be struck by a tsunamis. An earthquake of some proportion struck during my ownership of the property but there was not damage to my home not the rental unit on the property. Some people 'in the know' have said, of my new adventure – Be Careful. Since when was I ever careful I say onto them and I have profited. My West Marin home was sold to a wonderful woman who loved (and I am sure loves) the place. She turned a portion of one of the existing building into a bed and breakfast. I stayed there on one of my return visits to Marin. It is called Morning Glory, and this is why.
She: Alexis, it is called Morning Glory because you said of being on this property. It is so glorious to wake up in the morning and be in this place, on this property.
Me: What an honour. In a strange way the beautiful spot that you created is named after me!
Who in their right mind would say that buying 2.66 acres of land with a house and an abandoned veterinarian clinic was "Being Careful". It turned into a win/win for so many – the owner, the elderly couple that rented the old 'vet clinic' which I had converted into a second rental unit. They had a huge family living nearby. The wonderful couple is now deceased. I remember attending his funeral. There are also scores of unknown people who have enjoyed a respite at the Morning Glory Bed and Breakfast.
Living well is the best revenge is an adage. "Living well and being happy ultimately eradicate the need for revenge. The most rewarding outcome of living well and being happy is that it actually eliminates the need for revenge. Why? When you're truly happy and living well, you're longer concerned with others who have hurt or wronged you."  By the way, the photograph is not me, it just accidentally copied and pasted. I am cuter. Hahahaha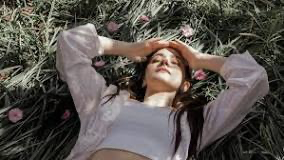 Living well is the best revenge first appeared in1640 George Herbert's compilation of "Outlandish Proverbs" appeared in London. It also is the title of a book which was "first published in 1971 and now available for a younger generation with a new introduction by the author, Living Well Is the Best Revenge is Calvin Tomkins' now-classic account of the lives of Gerald and Sara Murphy, two American expatriates who formed an extraordinary circle of friends in France during the 1920s." I shall have to order it from Audrey's Bookstore when I return.
Photographs of the vegetable plate and Instagram video shall, hopefully, be included.